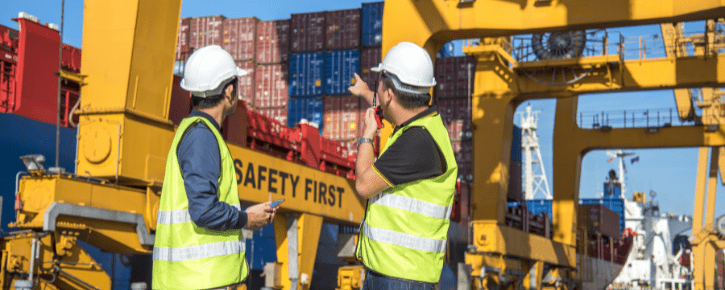 Maximize up-time and control cost with the right service agreement
Leading companies around the world trust JLT for the most reliable and high-performing rugged devices on the market. But we're much more than just a supplier. We're a partner who's on hand to help you with every step of the way. In this blog post, we take a closer look at the importance of getting the right support when you need it, ensuring maximum up-time and productivity for your business.
Turn around time, TCO and technical support
Over multiple decades, JLT has pioneered the rugged computing market. By taking design and quality to new levels, we have brought the possibilities of computing to industries where a typical office machine or consumer device might last just minutes. Our devices are built to last. But some external factors can't be foreseen, and devices will inevitably malfunction or even break, which is when customer service and reliable service agreements become so important.
When you rely on computers for your workforce to complete their tasks, you must avoid down-time at all costs. Taking action when something goes wrong, and getting a quick response is therefore of the essence. The more time it takes to get your devices fixed, the more negative effects it will have on your business. You need to know that there's a clear process in place to handle the situation and be rest assured that whatever issues arise, they will be taken care of in an effective and timely manner.
Apart from getting the device serviced, there's also the question of total cost of ownership (TCO). When buying a product, you always want to know what the actual cost of owning it is going to be throughout its lifecycle. A service agreement is a great way of keeping control of your costs – regardless of what happens to the device.
Great peace of mind is also knowing that you can easily get in personal contact with your supplier and receive committed technical and commercial support. Experts who know you, your business and your specific needs.
How can we support you?
At JLT, we believe reliability is key when buying a rugged product and that there's a lot more to a rugged solution than just the devices. That's why we developed our no-questions-asked service agreements , to keep your operations running smoothly and eliminate down-time, so that you can rely on us to take care of the issue – whatever it may be.
We offer two different types of service agreements – Basic and PUDO (Pick-up, drop-off) – that run from three to five years at a fixed price, so you can predict your TCO. The difference between these two service agreements is that PUDO also includes logistics services in terms of pick-up and drop-off for the repair of the product. Regardless of which service agreement you choose, JLT always offers the fastest possible return shipping options. We guarantee a quick turn around time for any repair as well as 24/7 return merchandise authorization (RMA) registration and tracking, to ensure maximum up-time for your operations.
JLT offers faster response-time and turn around than most of our competitors, mainly due to the fact that we control our processes from start to finish, regardless of whether the service is outsourced or not. We also offer support that helps you prevent handling errors, training of your staff for self-maintenance, or suggest changes to your setup that will help prevent future issues. By working closely with our customers, we have a deep understanding of different industry workflows practices as well as the know-how to quickly solve your complex business problems.
We always go the extra mile to meet your needs and ensure high performance of every delivery. Do you want to learn more about our service level agreements? Feel free to contact us or read more here !
Want to learn more?
We're here to help and advise you on every aspect of rugged devices and industry data communications.
Please fill in the form and we will get back to you as soon as possible.