JLT Insights™ dashboard software
Real-time operational data keeps you in control
Our 6th generation vehicle-mount terminals (VMT) offer so much more than just a window into your warehouse management software. By working in parallel with your VMTs in a huge variety of warehousing applications, JLT Insights will collect and contextualize previously undocumented operational data from your forklift devices – using onboard sensors in the VMT – giving you the ability to evaluate and improve your operations objectively.
More information unlocks deeper insights enabling you to improve your procedures, boost safety, and streamline your logistics operations. Thanks to an array of sensors embedded in our JLT6012 VMTs , you can capture real-time operational dynamics and compare, contextualize, display, and disburse this data using the JLT Insights dashboard. Combine impacts with location data to ascertain higher safety-risk areas or potential bottlenecks. Combine impacts with time and identify issues related to workforce and shift patterns. Combine time and location to uncover long local dwell times or heavy traffic areas. There are so many possibilities.
Got a JLT device and want to test JLT Insights out for yourself?
Swipe to see more photos.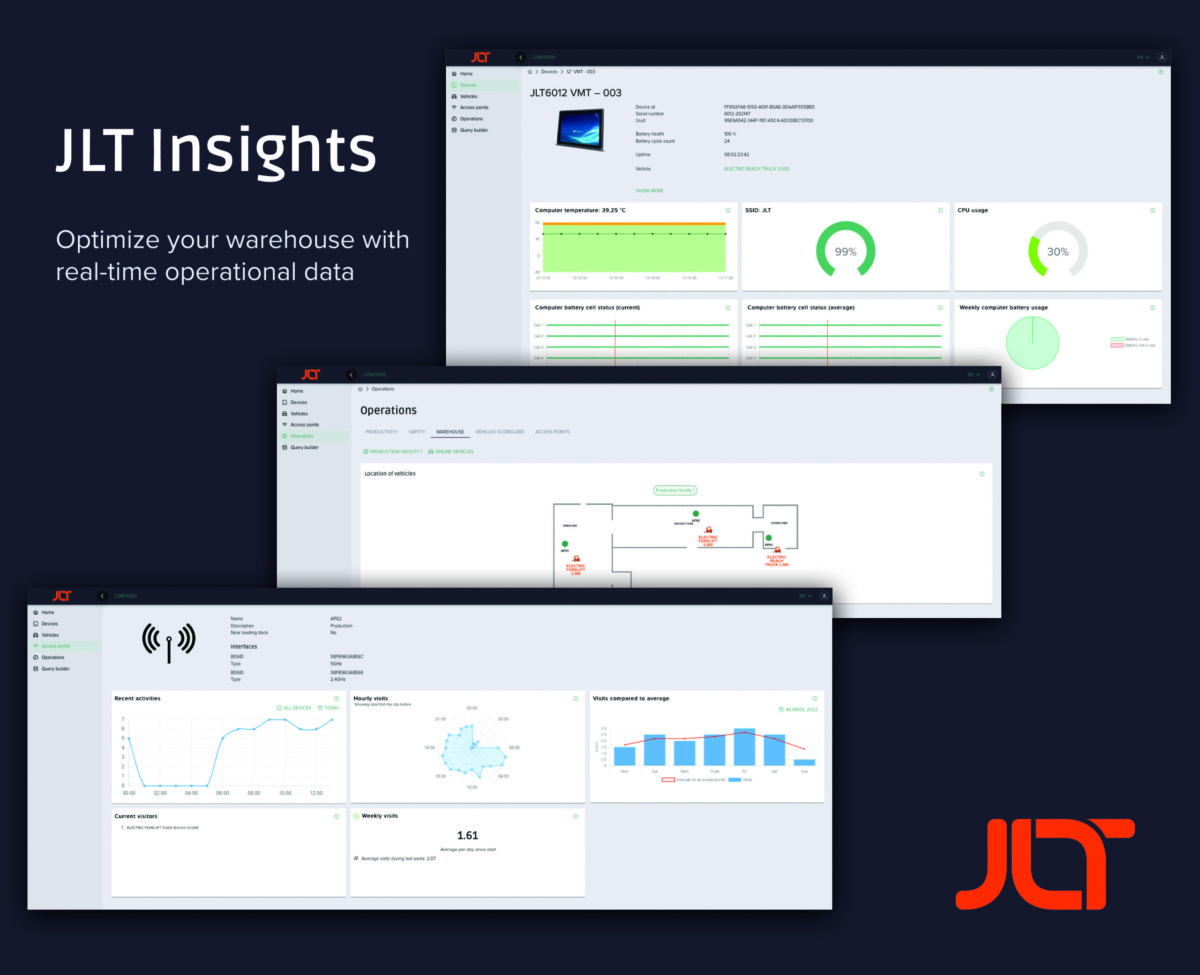 Analyze and optimize JLT devices using real-time data
Complementary to industry-standard mobile device management software (MDM), JLT Insights brings a new dimension to your operations. Users can subscribe to different notification types and opt to receive them inside JLT Insights and/or as an email.
Improve daily forklift operations
Identify potentially hazardous areas; highlight the positioning of forklifts; spot patterns based on vehicles, shifts or locations; exploit data to monitor and improve productivity, improve network setup and enhance Wi-Fi coverage.
Establish proactive routines
Contextualize data from JLT Insights to help establish proactive maintenance and uptime/continuity plans. Make decisions based on the results you see in your own data queries.
Specifications
Key features
Subscription-based on a per device/per vehicle three-month cycle – FREE 30-day trial available
Intuitive homepage delivers notifications, overviews, and useful news
Statistics page highlights devices, vehicles, and access points
Users can examine operations and create queries*
*Standard Subscription only
JLT Insights will continually evolve in line with market needs and hardware capabilities, delivering even greater returns on investment and lowering your cost of ownership. JLT engineers are ready to help you define which data is most useful to capture and then help formulate the queries which will define the most relevant actionable information for your operation. The identified data points can be configured by JLT, local partners, or your own operations IT Manager to add the biggest operational value for continued improvement.
Base Unit
BASIC SUBSCRIPTION
Includes computer information via the device to track IT health
Includes computer information via sensors to optimize your operations
STANDARD SUBSCRIPTION
Includes Basic Subscription
Possibility to combine data sets to draw further business intelligence
Create your own queries to generate the data most useful to you
Internal sensor data delivers vital operational insights to optimize IT and forklift operations. Combine sensor data with other data sets to provide relationship-based insights.
Bespoke queries can be generated to make further analysis relevant to your needs. You can subscribe to alerts for multiple event types to identify irregularities. Proactive decisions can be taken and maintenance routines defined that will prevent downtime. Many more features are on the roadmap, and JLT is accepting suggestions from its user base.
Security
PRIVACY AND SECURITY
Built on Microsoft Azure, JLT Insights comes with all the relevant security and privacy as standard.
The only personal information held is account details, which are not linked to any of the operational data. Users can be assured of their privacy and security.
Operating Systems
SYSTEM REQUIREMENTS
JLT6012 VMT (JLT6012A, coming soon)
JLT Control Panel version 2.22.0 installed on JLT computer
See system requirements for Control Panel
Connection to the internet from your JLT computer
Compatible browsers: Chrome, Safari, Edge, or Firefox
FREE GUIDE
Considering barcode scanners?
Don't rush your decision. Avoid investing in scanning equipment that doesn't serve your purpose. Read our free guide to scanner success today!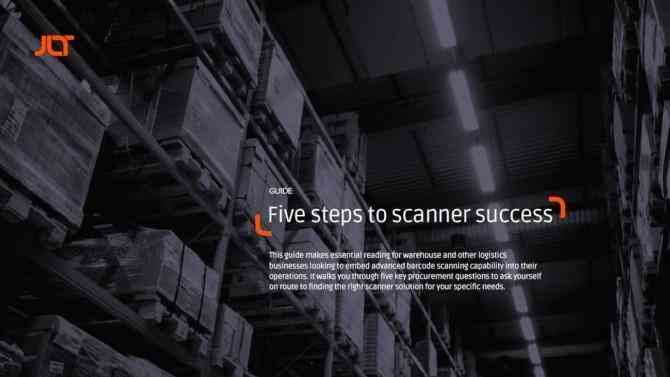 Got a question?
We're here to help you find the best solution for your specific environment and requirements.
Please fill in the form and we will get back to you as soon as possible.