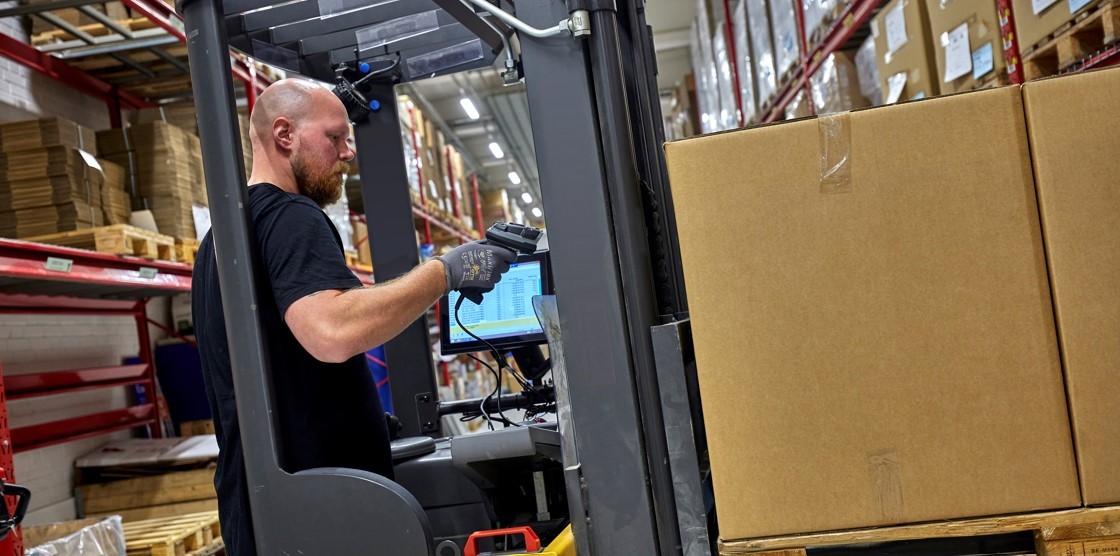 How is eCommerce and Mobility changing Manufacturing, the Warehouse and the Distribution Pipeline?
Just think for a moment how the cellphone, smart phone, and tablet computer has changed how we live and interact with one another. You hear the question every day; "how did we do this before cellphones?" We depend on them so much that we often feel naked without them. On-line shopping, GPS, email, on-demand web access, photo apps, face-to-face communication, and social media are just a few of the applications mobility has given us, and what we have grown to depend upon. We are now more productive, more efficient, and go through our real-time day without thinking much about it. Those behind this technology knew it had to be convenient, efficient, reliable, user friendly, and immediately available for use – otherwise people would not use it and it would not sell. And so it was, it now is, and people actually use it. It is ubiquitous.
As a result, most people today are well schooled in using the devices associated with this digital transformation. And those now entering the labor force expect employers to have the same basic technology they are familiar with in order to be productive in their jobs and to support business needs. The use of this technology has been bleeding over to the commercial world. It is obvious that eCommerce has been growing exponentially for quite some time. The driving forces for this shift are ease, speed, and convenience that online shopping provides the consumer – labor and cost savings plus efficiencies for the business. But, in particular, the Covid-19 pandemic has brought about a new awareness as to the power of a global digital supply and delivery network. How important is eCommerce; just ask online marketeers like Amazon, eBay and Etsy. Whether one is in Distribution or Manufacturing, the focus now is on fulfilment – either B2C or B2B. The customer today expects easy access to product information whenever it is convenient for them, from wherever they are at any time, and they want the purchasing experience to be fast, easy, and accurate. Oh, by the way, they also demand real-time delivery information.
To meet the ever-increasing demands of online consumers, companies are moving more products across more supply chain distribution points. Studies have suggested that 95% of shopping will be done via eCommerce by the year 2040. According to Statista, a global business intelligence platform provider, revenue in the eCommerce market in the United States was forecast to continuously increase between 2023 and 2027 by 490.4 billion U.S. dollars (+53 percent) in total. After the tenth consecutive increasing year, the indicator is estimated to reach 1.4 trillion U.S. dollars and therefore a new peak in 2027. The International Trade Administration also bears this out in their research, and we encourage you to view their report at https://www.trade.gov/ecommerce-sales-size-forecast.
So, why should all of this be important to you? Because the winner of this competitive battle goes to those who can fulfil the order faster, accurately and less expensive than the other while keeping the consumer well informed with order status. With that comes an ever-increasing need and dependency for the reliable flow of mission-critical information.  Technology is helping with this transformation in many ways, designed to address the labor shortage and expense and by improving the productivity of the fulfillment process. Some companies are surprised to learn that their current business practices and legacy equipment are simply unable to handle the increased resource workload needed to support these activities. Of primary importance is the role the Internet, Wireless Backbone and enabled devices play.
Businesses are quickly learning that they need:
1. Mobility in order to move decision support from the office to the front-line worker for more accurate data collection and faster problem resolution
2. Improved wireless communications to collect and flow huge amounts of data
3. Reliability of the infrastructure
4. Productive staff
Read more in the sections below.
1. Mobility in order to move decision support from the office to the front-line worker for more accurate data collection and faster problem resolution
Problem: PC on a table somewhere.
Ethernet cables were not long enough to always reach the source of the transaction
If compliance was needed, it required a camera – hence another device
Productivity hit with back-and-forth travel to scan or keyboard entry
Risk of inaccurate data collection/entry from paper notes
Required AC power or POE
2. Improved wireless communications to collect and flow huge amounts of data
Problem, current legacy 802.11 2.4 GHz a/b/g/n:
They are crowded with traffic from cordless phones and other 2.4 GHz devices.
Noisy networks and susceptible to interference
Limited throughput and capacity
Not as scalable as 802.11 ac
Solution, within the four walls:
Fast 802.11 a/b/g/n ac 5 GHz wireless backbone and devices to quickly handle the increase in traffic within the four walls (WLAN)
Three times faster than previous 802.11 2.4 GHz a/b/g/n
Less interference and more resilient
More capacity
Wireless routers and devices that support MU-MIMO (less time to wait on the router)
Interoperability
Implementation of dual diversity PIFA antennas which ensures connection to the strongest wifi signal.
Solution, outside the four walls:
Fast 4G/LTE and 5G wireless cellular networks to handle the needs outside the four walls (WWAN).
Benefit:
Handheld or tablet solutions can be used within or outside the four walls
Forklift mounted computers can be used to handle large pallets, case lot loads and re-weigh applications wirelessly
Mobility using either WLAN or WWAN to go to the source of the transaction
Quicker and more accurate order fulfilment
Faster pick rates
Immediate problem resolution
Order management and compliance
Improved speed and accuracy in data collection and order fulfillment
Employee empowerment
Discipline of operational completeness
Automates the Distribution Pipeline
3. Reliability of the infrastructure
Problem: Downtime is expensive. The device and the wireless network must be available all the time and on a moment's notice.
Solution: High throughput networks and devices that have low failure rates
Businesses that have high availability of on-line services typically win the competitive game.
4. Productive staff
Problem: Employees who do not like the tool they are using, will not use it effectively
They do not care nor are they paid to understand where the problem is. If it creates stress or more work for them, it creates a productivity issue.
Solution: provide reliable technology that they are familiar with, and they will use it.
So, how is mobility and wireless services changing the Warehouse and DC?
Allows for faster and more accurate order fulfillment
Allows Distribution Pipeline to be better managed and controls inventory levels in real time.
Provides real-time tracking information on shipments.
Facilitates both voice and data communications.
Allows and controls BYOD integration.
Warehouse can be reset more easily.
Easy tracking of all assets and their location within the warehouse.
Inventory is expensive – Get it in, get it counted, and get it out.
Filling orders is expensive, speed and accuracy are everything – Reduce travel time, improve accuracy, pick rates and speed in processing orders.
Labor is expensive, if you can find it – Automation improves accuracy and productivity while reducing cost.
Downtime is expensive – Wireless dead spots, equipment failures, process delays and network outages.
Product recall is really expensive – Quality control and lot tracking.
Consumer-grade technology not able to withstand the challenges
Some businesses have learned that consumer-grade technology was not able to withstand the harsh environments of a warehouse, manufacturing plant, distribution center, port, or delivery vehicle. Nor could they provide an acceptable product life cycle, reliable uptime, productivity and safety tools, services, and actionable business analytics.
So, what is needed, how has industry responded, and what is the trend?
Improve reliability by engineering and manufacturing rugged devices that are able to withstand the harsh environments in which they operate.

Extensive use of VLSI.
Board to board connectors to eliminate effect of shock and vibration.
Single piece construction to eliminate a major failure point.
Implementation of PCAP technology which makes touch screens resistant to damage.
Faster CPU's and storage
Lighter units and improved battery life

Improve productivity

Integrated sensors and accelerometers that will automatically collect information on the operation of all devices including forklift battery performance and WiFi connectivity.
Operator and business analytics.
Camera integration.
Speed, routing or location (Geo-Fencing).

Improve Reliability

Computer availability and downtime statistics

Improve Safety

Screen blanking sensors
Driver behavior and crash detection sensors

Wireless

Implementation of WiFi 6 or 802.11 AX
Another 40% increase in throughput
More data packed in the same radio waves
Will increase speed if 2.4GHz networks
Will provide longer battery life through WoL
Implementation of 5G WWAN

Soon to become the cellular network standard
Being driven primarily by increase in IoT
Encountering resistance in being nationalized
Looking at next generation of WiFi

WiFi 6E
Based on 6 GHz spectrum
For over 30 years, JLT has been helping companies large and small to navigate the myriad of technology options. Your productivity is important to us, and we are here to help. Please contact us.
Want to learn more?
We're here to help and advise you on every aspect of rugged devices and industry data communications.
Please fill in the form and we will get back to you as soon as possible.