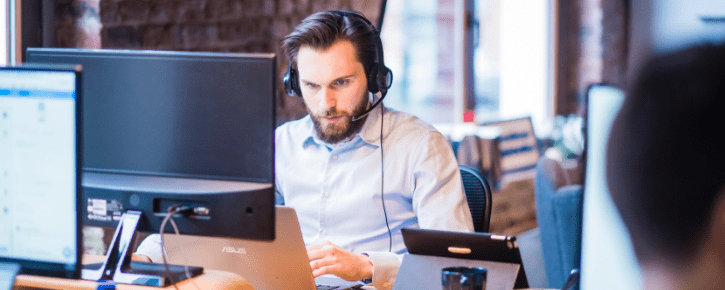 What to think about when you update your rugged devices' operating system?
Updating your operating system (OS) on rugged computers is not as easy as confirming a notification, like you do on your smartphone. However, it doesn't need to be difficult either. In this post we take you through the process and what you need to think about to ensure a successful update.
Windows vs. Android
There are two OS that dominate the rugged market. Android and Windows. You may have one or the other, you may have both. I'm not going to go into the pros and cons of each system here, but you can read about the main differences between the two OS in this post.
One thing to keep in mind, is the upgrade paths. Microsoft owns Windows one hundred percent, so they dictate when they launch a new OS and when they kill one off. Whereas Android, though primarily owned by Google, is open source so a device manufacturer like JLT can make their own custom version and bolt it on to the core.
Whichever one you are running, the decision to update is often taken out of your hands. New software, enhanced security and end of life can all be triggers for taking the leap to a newer OS. For example, Microsoft has announced they are no longer supporting Windows 7. Of course, you could decide to continue with the old version, but with no security patches, new functionality nor support, you would leave yourself open to greater problems in the future.
But rather than sitting back and letting the inevitable happen, there are some steps you can take to make sure your upgrade runs smoothly.
Role of validation and testing
Whenever you update your OS you should approach it like you would rolling out new equipment. You're stripping back your computers to the bones and loading everything from scratch, so it makes sense to look at it like a new piece of kit. And what's the most important stage of deploying new stuff? Validation and testing of course.
If you're updating a Windows device, you need to reimage it. This means taking a single device, loading the new OS as well as all software applications and drivers, and defining your specific settings. After testing it thoroughly you roll out this blueprint across other devices, giving you consistency across all your computers.
It's a similar process if you're updating an Android.
Find and solve problems
Whichever OS you're using, you'll want to validate everything before you roll out the updated blueprint image to all devices. Make sure the drivers are loaded, the peripherals work, your software or apps run, Bluetooth functions, WiFi connects, shortcut buttons work and your preferred settings are installed. The last thing you want is to find out your version of a software application, such as an SAP system, doesn't run on your new OS once you've rolled it out to over a hundred devices!
As with new equipment deployments, we recommend that you test the equipment over a prolonged period of time and in the environment where the devices will be used once they are deployed. This really is the only way to discover and address any problems before you roll out the new OS.
Test carefully, running through all the processes the devices would normally complete. Get your workforce to try them out too. Ultimately, they are the ones who will be using the new OS every day. Better to get them involved in testing rather than spring the update on them when it's deployed.
Use MDM for a simpler roll out
Once you're happy that you've resolved any issues uncovered during testing and validating, then it's time to deploy. At this stage, Mobile Device Management (MDM) can be useful. This software saves time and ensures complete consistency across every device. Just be aware that any broken or bricked devices which aren't connected to WiFi or a cell network will not get the update. You'll need to track those down and do those manually.
By following these steps, you can get a seamless OS update. Of course, you can do it inhouse using your own team of IT experts. But at JLT we work with our customers to make sure they get the best from their devices over the entire lifespan. Get in touch and we'll help you with your next update.
Want to learn more?
We're here to help and advise you on every aspect of rugged devices and industry data communications.
Please fill in the form and we will get back to you as soon as possible.