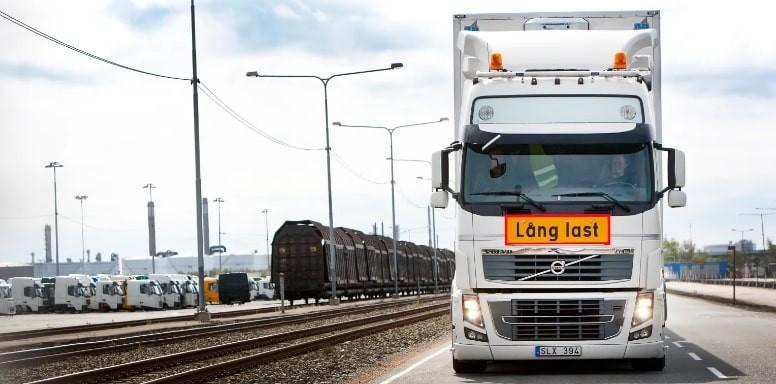 Volvo cuts emissions in heavier trucks thanks to extensive data collected by JLT computers
"I really don't know how development would have begun without the involvement of JLT. If we have any new challenges, they will certainly be at the top of my list!" Lennart Cider, product architect, Volvo
High-capacity transport (HCT)
As climate legislation gets tougher, haulage companies, trade associations, truck manufacturers, and governments are looking to cut emissions… but without affecting the flow of goods. As it turns out, carrying more freight per vehicle certainly helps, but only when you keep a really close eye on all vital operating parameters.
Sweden's high-capacity transport (HCT) program could be about to revolutionize the haulage industry, thanks to its goal of studying the use of longer, heavier vehicles, in order to cut emissions from haulage operations.
Much like encouraging more people to take trains or buses – which cut per-person emissions compared to cars – the HCT project has been studying the prospect of using longer trucks to carry heavier loads more efficiently. But in order to realize maximum savings, the trucks must operate to their optimum capabilities, and this required significant data capture in the testing phase to uncover and investigate the effects of all the possible permutations.
Critical role
One of the companies involved in this research is Volvo, and according to Lennart Cider, a product architect at the company, JLT's rugged computers played a crucial role in collecting and collating the in-transit operational information required to measure and fine-tune the vehicle dynamics.
Cider explains that the company has been working on environmentally smarter vehicle combinations for the last 15 years, which has involved an intimate study of all vehicle dynamics in a huge array of applications and settings, many of which were more environmentally hostile.
Data from everything!
JLT was chosen by Volvo to provide the all-important data-capture role and to also feedback essential information to the drivers in a clear and actionable format.
"We used the JLT computers to record measurements and define the control of all the possible combinations, of which there were many," Cider explains. "Located in the cab, the JLT computers recorded all the information from the truck's internal Controller Area Network (CAN) communication infrastructure, as well as the CAN-based information flowing to and from the trailers."
And it is trailers… plural! One of the formats tested comprised a tractor unit and two 13.6 m euro semitrailers. Creating a vehicle with a total length of 33 m and weighing in at 90 tonnes.
Open platform for greater flexibility
"At the start of the project we did not have the computing power onboard to collect the different data," Cider explains, "so we knew we needed to find an external supplier, but it was essential that the computing devices offered us an open solution that could monitor, record, and transmit to and from multiple different units on the vehicle combinations, while also being highly reliable.
After all, our trucks are used in harsh conditions, such as timber trucking, so the cab environment can be pretty inhospitable. JLT's rugged computers proved to be the perfect answer."
The computers were used to measure and collect a multitude of parameters including acceleration, lateral movement, axle weights, braking, and tire pressures. "There was so much information to capture," Cider elaborates. "We needed to have something that could listen to everything in different formats and then handle all the various data so it can be analyzed and shared in real time, and historically."
Each of the collected parameters has a different effect on efficiency and vehicle emissions. Much like driving a car, heavy acceleration burns fuel too quickly, as can getting back to speed following harsh braking. Weight distribution can affect the efficient use of the driven axles and underinflated tires can negatively impact fuel consumption. And this is just a small sample of the information collected.
In isolation, each of these will have a small impact, but in combination, over large distances and with heavier loads, the negative impact soon adds up. The goal of the project was to collect sufficient data points so that automatic and semi-automatic systems and messaging can be put in place to mitigate or remove the more negative operational parameters.
Tough environments
Some of the harshest testing was performed during timber runs, where 76 tonne truck/trailer combinations were put through their paces in incredibly harsh conditions.
"We connected our wheel-drive test prototype system to the JLT computers so we could monitor the temperatures and pressures of the hydraulic oil used in the wheel motor system," remembers Cider.
"Using the JLT computers we can visualize the weight distribution over the various driven axles – which can be up to 12 axels on a 100-tonne test vehicle," Cider explains. "We can then feed this information back to the driver who can decide to move or not, based on the weights, the distribution, and the road conditions.
"Thanks to the software being used on our JLT computers," he continues, "this information is delivered very clearly and unambiguously. In fact, some of the drivers from the beginning of the project relied very heavily on the computers and many asked us not to take the JLT hardware away. It's very easy to get addicted to data you rely upon!"
The results are in!
The Volvo test program has now drawn to an end and the results are in! The data is conclusive, with all parties agreeing that high-capacity transportation is a viable concept – with the double trailer combinations offering savings of 27% in both diesel and emissions per m3 of vehicle load space, compared to a single trailer. And it's also just as safe as existing modes. Indeed, as part of the program, Sweden is looking to modify its road rules to cater for the longer, heavier loads.
What could you achieve if you could collect more operational data? Take a look at our products and services and get in touch to find out.
For more information on projects with Volvo, read this story: Volvo picks JLT to improve connectivity on forklifts.
Want to learn more?
We're here to help and advise you on every aspect of rugged devices and industry data communications.
Please fill in the form and we will get back to you as soon as possible.