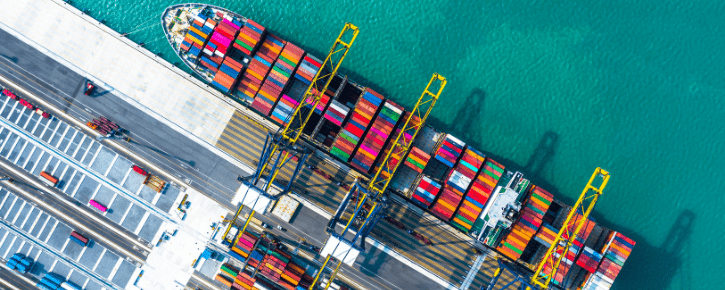 Boost network connectivity at your container port
Container ports depend on technology to be competitive and digitalization is opening up new ways to maximize the efficiency in operations. However these opportunities also bring challenges. Bandwidth heavy processes, security concerns and mounting compliance put strain on your network. But to keep things moving you need first class connectivity.
Ports need constant connectivity to hit throughput targets. Bad connectivity can stop your employees doing their jobs as they waste time trying to log back on to the system or find a spot with coverage. And the effects of these stoppages are felt across the business and beyond.
Good connectivity in a large port yard is a challenge as well as an enabler, so when you hit problems it's time to troubleshoot. But you need to consider more than just the network itself – you also need to look at your devices and your environment.
Cellular or WiFi?
If you're dealing with more mature network infrastructure, then you're probably running WiFi. So you should check the placement of access points (APs). They need to be positioned so they throw signals over the entire area where container handling equipment (CHE) operate. Antennas that direct the signal into every alley is one way to improve coverage.
If you're still having problems when the APs are in the right place and the signal strength is adequate then you need to look at your devices. Consumer grade devices may have a desirable price tag however they are not built to deal with the demands of a port. You need truly rugged devices that can cope with all the knocks, temperature changes and dust, as well as offer the latest radio and antenna solutions to ensure a reliable connection.
As ports cover many hectares, an LTE or cellular network could be better suited than WiFi to deal with the distances involved. If you're considering updating your network in the next few years, you should consider 5G, which will offer you even more flexibility going forward.
Compatibility problems
New devices might not connect to your older generation network, new software may gobble up your bandwidth or a new network can cause computers to drop connection.
In an ideal world you would update both your network and devices at the same time to ensure compatibility. However, in the real world this doesn't happen often. So you end up updating things here and there, which leads to a disconnect in performance and a potential negative impact on connectivity.
The solution here is to check your network manufacturer specifications to make sure the network elements are compatible on paper and then test extensively to double check they work together in real life.
Changing environment
Ports are demanding in their very nature. They cover hundreds of hectares and are like a busy traffic interchange with cranes, tractors, trucks and trains constantly moving around. Not to mention the containers that are endlessly stacked, moved and loaded. You need a network that can handle this dynamic environment and keep your devices connected. Different materials impact signals in different ways – water and metal.
A self-healing network could be the answer. Each access point monitors what's happening around it and modifies the signal strength to make sure your computers stay connected wherever and whenever.
Finding the issue
A network survey is a good first line of defense when you've got connectivity issues. Special listening devices build a map of your port showing the signals and interference for 2.4 GHz and 5 GHz bands. But this only gives you a snapshot in time. To get a more complete picture you need a multi-window survey. This creates several maps at different times over several days.
Of course there are limitations to these surveys. They will show you coverage, saturation and noise, but will not help you discover traffic issues. You need to look at your logs APs, your switches, your devices, every component that makes up your network infrastructure.
By optimizing your IT connectivity you'll be optimizing so much more – your operations, compliance, data security and employee safety. Get in contact with us to find out how we can help make sure your mobile computers are helping, and not hindering, you on this optimization journey.
Want to learn more?
We're here to help and advise you on every aspect of rugged devices and industry data communications.
Please fill in the form and we will get back to you as soon as possible.