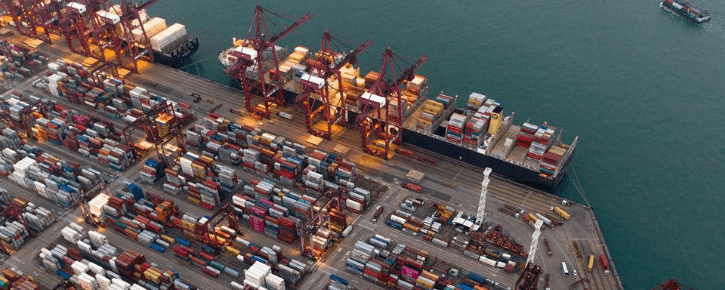 How to approach port automation to really drive up throughput
Keeping the world's supply chain moving means every second really does count. Ports base their success on the amount of goods they move through their facilities – called throughput. Increasing this throughput is the number one priority. In this blog we hear from Tomas Girdzevičius, CEO at Autepra, JLT partner and IT systems integrator working with container ports.
Automation is more than installing technology
"There's a lot of focus on automation right now to boost efficiency in brownfield container ports. However, it's not as easy as installing a few sensors, cameras and tech. Everything needs to change – your driving routes, your ways of working, your processes etc. A project like this can actually take several years to plan and deploy," explains Tomas.
If you think of automation as an onion with several layers, right in the middle you find the Terminal Operating System (TOS) and infrastructure. This is the foundation you need to build the other layers on. Without this, you can't add automation to start driving further efficiencies.
Ten, fifteen years ago it wasn't unusual for container terminals to rely on pen and paper to record tasks and track containers. Radios were the norm for communicating with crane and tractor drivers. Loading and unloading took time.
Getting the core in place
Fast forward to today and most brownfield ports have the core in place. Access databases have been replaced by Terminal Operating Systems (TOS) to record the flow of containers around the decking, vessels and trucks. Radios have been replaced by WiFi or cellular network and computers.
"Rugged computers, networks, cyber security and TOS have already brought great efficiencies to container ports. They're the backbone of operations. Technology keeps progressing and even if you're not considering automation yet, you can still boost productivity by making sure these items are up to date," comments Tomas.
Once you have this core you can add the next layer of the onion – gate automation and crane automation. At non-automated gates manual checks and document handling means it can take around 12 minutes to check in a truck. And that's just one truck. Adding gate automation, which works on OCR technology, can cut this time to one minute. When you think about the hundreds or thousands of trucks that show up to a port every day, that's a big saving.
Successful projects take time to develop
For a project to be a success it can take time as Tomas explains, "You need to think about driving paths and the signage. You also need to consider the design of your kiosks – they should be ergonomic and the interface must be intuitive. Then you need to decide where to install system components like the portals that do all the imaging and recognition. Sometimes it's best to locate these on a public road so you need to get permissions. And so on. Taking time at this stage is worthwhile though."
Crane automation is perhaps more straightforward. Adding cameras and sensors enables cranes to automatically load tractors and take images of containers to allow for checking of damage and seals.
The final layer of the onion and the gold standard of brownfield port automation is positioning and tracking. Using OCR technology, the system can pinpoint and track assets to within 30cm so you can be sure you know where everything is and how it is performing.
More automation means more savings
"Nowadays, even the smallest terminal needs to automate to stay in the game. It can help shave minutes off processes here and there. When you add all together these seconds together it can equal a lot of savings. As with every new deployment it's a balance of cost vs. saving. ROI on large projects like this can take time, but the more elements you add the bigger the man hours saving will be," says Tomas.
Autepra works with third party solutions providers to design and build turnkey solutions for container ports. Autepra's partner for rugged computers for use in vehicles and gates is JLT.
If you want to find out more about how we can strengthen the backbone of your port operation with reliable, up-to-date rugged computers, get in touch.
Want to learn more?
We're here to help and advise you on every aspect of rugged devices and industry data communications.
Please fill in the form and we will get back to you as soon as possible.