JLT Mobile Computers Selected by Swire Coca-Cola, USA, One of the Largest Independent Coca-Cola Bottlers in the United States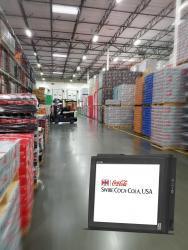 Due to its leading reliability and performance the JLT1214N computer was selected for use in the customer's warehouse operations
Växjö, Sweden, August 24th, 2017   * * *   JLT Mobile Computers, a leading developer and manufacturer of reliable computers for demanding environments, has started the delivery of more than 300 of its JLT1214N forklift computers to Swire Coca-Cola, USA, one of the largest Coca-Cola bottlers in the United States.
The delivery process will continue throughout 2017 and into the first quarter of 2018 as Swire Coca-Cola recently expanded its territory in Arizona, Colorado, New Mexico, Oregon, Washington, and northern Idaho, including the cities of Albuquerque, Denver, Phoenix, Portland, Seattle, Spokane and Tucson.
"JLT has been extremely helpful in Swire Coca-Cola's continued growth. Our growth has required improving our inventory system in our warehouse operations," said James Sloan, Chief Financial Officer for Swire Coca-Cola, USA. "We have used forklift computers from JLT since 2011 and the results and customer service have exceeded expectations. Improved productivity and reliability means we will continue to deliver excellent service with minimal disruption for our customers, consumers and employees."
The JLT1214N forklift computer is the latest generation logistics computer from JLT, delivering the lowest total cost of ownership for a wide variety of logistics applications. The JLT1214N comes with a 64-bit Intel quad-core processor and features dual-diversity antennas, custom-made for reliable Wi-Fi in environments with poor coverage.
"The JLT1214N is a real workhorse for warehousing applications with the higher performance that increases users' productivity," said Eric Miller, CEO of JLT Mobile Computers, Inc. "It is based on the successful JLT computer platform and designed from the bottom up with the latest processor technology to deliver maximum reliability and trouble-free operation in very tough environments, from cold storage rooms to broiling hot sun, from fixed wall mounts to vibrating forklifts."
Want to learn more?
We're here to help and advise you on every aspect of rugged devices and industry data communications. Please fill in the form and we will get back to you as soon as possible.