JLT Mobile Computers' Rugged Tablet Verizon Wireless Certified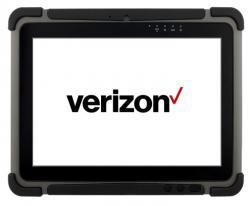 The certification ensures reliable connectivity for the JLT MT2010™ tablet when operated on Verizon Wireless network
Växjö, Sweden, March 26th, 2018   * * *   JLT Mobile Computers, a leading developer and manufacturer of reliable computers for demanding environments, announces that the recently launched MT2010™ rugged tablet has granted Verizon Wireless carrier certification. With 802.11 a/b/g/n Wi-Fi, Bluetooth 4.0, and options for 3G or 4G LTE, and GPS, the MT2010 offers reliable connectivity and wireless communication in the most demanding environments. "For modern industrial companies today, including many of our customers, staying connected is crucial and operating on the Verizon Wireless network is very common," explains Eric Miller, CEO, JLT Mobile Computers Inc. "Having a 15-year track record of selling tablets and handhelds in the US, we know the certification is important as customers can trust the MT2010 to provide reliable connectivity to the wireless network from Verizon." Offered with the same high level of support and services that JLT is renowned for, the MT2010 leverages JLT's extensive rugged tablet knowledge and enables companies in the target industries warehousing, food and beverage, transportation, and ports, to collect data and streamline communications in harsh operating conditions.
The rugged MT2010 tablet comes with a large 10-inch, sunlight-readable, projected capacitive touchscreen display, is IP65 dustproof and water resistant, operates in temperatures of 14 to +122 °F, and withstands a drop of up to 4 feet onto concrete. Like all JLT products, the MT2010 can be tailored to individual customer requirements, including additional storage or operating system modifications for improved security.
Want to learn more?
We're here to help and advise you on every aspect of rugged devices and industry data communications. Please fill in the form and we will get back to you as soon as possible.