All JLT Mobile Computers Compatible with New Windows 10 Operating System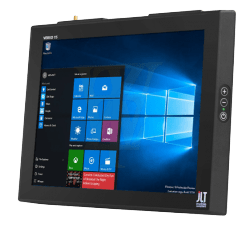 New operating system makes rugged computing even more accessible and reliable
Växjö, Sweden, 5 August 2015   * * *   JLT Mobile Computers, Swedish developer and manufacturer of rugged computers for demanding environments, announces that all JLT rugged computers have been tested to be compatible with Microsoft Windows 10. Upgrading JLT computers with Windows 10 enables the user to take advantage of the new operating system's enhanced security and productivity features, while retaining the quality standards, reliability and market leading performance of JLT products.
JLT products are recognized around the globe as the most rugged, reliable, high-performance vehicle-mount computers on the market. The rugged computers from JLT are designed ground-up for tough environments such as transportation, logistics, mining, automation, and forestry. With the recent uprating to wireless connectivity across JLT's entire range of rugged computers (announced on March 30), and support of the new Windows 10 operating system, JLT is leading the way in making rugged computing even more accessible and reliable for all mobile users.
Combining the advantages of Windows 7 and Windows 8 and adding a range of new features, Windows 10, the latest operating system from Microsoft, is far superior to its predecessors. It is faster, has better built-in security features and makes it easier to navigate between tasks.
"Delivering products with high standard over two decades, JLT has taken a leading position in the high-end of the rugged computer market where performance and reliability are essential criteria when choosing a computer," said Per Holmberg, CEO at JLT. "With Windows 10 as a supported option, we reinforce this position and meet the demanding customer requirements within segments such as warehousing, mining, forestry, agriculture, and ports."
The new Windows 10 operating system has been tested with JLT rugged computers. A free upgrade to the latest software is available for users with Windows 7 PRO through Microsoft. Windows 10 will shortly be provided directly from JLT for both new and existing clients as well.
Want to learn more?
We're here to help and advise you on every aspect of rugged devices and industry data communications. Please fill in the form and we will get back to you as soon as possible.