JLT Mobile Computers targets the port, manufacturing, and warehousing segments with upgraded JLT6012™ computer
---
Visit JLT Mobile Computers at ProMat 2023,
Booth S3275, 20-23 March 2023, Chicago, US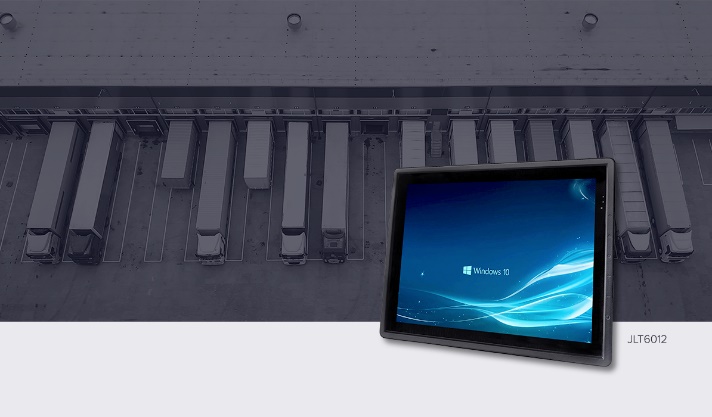 Image available: monika@prismapr.com
JLT Mobile Computers targets the port, manufacturing, and warehousing segments with upgraded JLT6012™ computer
With enhancements such as WWAN/GPS and new Intel Elkhart Lake processor, rugged JLT6012 vehicle-mount computers – already hugely popular in warehousing applications – are now also an ideal choice for outdoor logistics, such as ports and yards.
Växjö, Sweden, 31 January 2023 * * * JLT Mobile Computers, a leading developer of reliable computing solutions for demanding environments, has upgraded its powerful and versatile JLT6012 rugged vehicle-mount terminals (VMTs).
Originally developed for demanding warehouse and logistics applications that require IT solutions running Windows OS, the JLT6012 VMTs have proven to be a reliable computer platform in some of the world's most challenging physical and environmental applications. The upgrades now take the rugged computers' arena of operation into further industries, including container ports, yards, and manufacturing plants.
A result of JLT's extensive and ongoing research and development efforts, the upgrade significantly enhances the popular JLT6012 VMT, showcasing what sixth-generation JLT devices will offer from this year onwards. This not only sees improved operational performance, the key to making the devices more suitable for a wider array of outdoor applications, but also the user's ability to integrate them into Industry 4.0 information architectures, as many of JLT's customers undergo digital transformation.
The new JLT6012 VMT comes with WWAN/4G and has been prepared for WWAN/5G to enable customers that do not have access to WiFi wireless networks to be connected, for example when using the devices in large port yards. Compared to the previous unit, the new JLT6012 VMT has improved performance with a more powerful CPU, in the shape of the Intel Elkhart Lake processor, coupled to more RAM. Network performance is also improved, with a new chipset that offers WiFi 6E capabilities and Bluetooth 5.2. Audio capabilities have been modified too.
Even before the upgrade, the JLT6012 VMT took operational capabilities to another level compared to competitor solutions and other models in JLT's extensive range. Its isolated 9-72 VDC power supply removes the need for an external power hook-up or extra protection in almost all vehicles. Furthermore, a wide range of integrated sensors opens up myriad possibilities for multiple forms of operational data capture, which can then be collated, contextualized and shared/displayed by the data-driven software dashboard JLT Insights™ to help manage a fleet of rugged devices.
Like the models it supersedes, the technology and operational enhancements are isolated from the elements thanks to JLT's industry-leading ruggedized design – the industry's most compact – which has helped previous generations operate flawlessly in some incredibly demanding environments.
Another important facet of its rugged capabilities is JLT's PowerTouch PCT screen technology, which delivers an almost indestructible operator interface without sacrificing user input capabilities – even with gloves on. Quick and easy login, RFID-tag integration, high-brightness displays with adjustable auto-dimming for both indoor and outdoor usage, and easily accessed programmable function buttons make the user experience second to none in terms of ease of use and productivity.
"The markets we serve are seeing their operational dynamics constantly changing," explains Christian Funk, Director of Product Management at JLT Mobile Computers. "New technology, tighter legislation, wider variety, and the explosion in digital capabilities are all compounding the need for our customers to work smarter, faster, and more accurately. This new model illustrates our continual improvement efforts, with a target of keeping one step ahead of these customers' needs."
The upgraded JLT6012 VMT complements JLT's extensive range of rugged mobile computers, expanding capabilities into all logistics segments. With multiple successful use cases across the globe – all in highly demanding operating conditions – it is setting the pace in terms of its perfect combination of design, functionality, and operability. Combine this with JLT Insights and customers can boost their productivity with greater overview of their IT-infrastructure and daily operations. Hardware and software working in perfect harmony means optimal business performance.
The upgraded JLT6012 VMT is available and shipping today. Purchase now and get 180 days of JLT Insights Standard Subscription free of charge!
For more information about JLT Mobile Computers, its products, and solutions, visit jltmobile.com.
About JLT Mobile Computers
Reliable performance, less hassle. JLT Mobile Computers is a leading supplier of rugged mobile computing devices and solutions for demanding environments. Over 25 years of development and manufacturing experience have enabled us to set the standard in rugged computing, combining outstanding product quality with expert service, support and solutions to ensure trouble-free business operations for customers in warehousing, transportation, manufacturing, mining, ports and agriculture. JLT operates globally from offices in Sweden and the US, complemented by an extensive network of sales partners in local markets. The company was founded in 1994, and the share has been listed on the Nasdaq First North Growth Market stock exchange since 2002 under the symbol JLT. Eminova Fondkommission AB acts as Certified Adviser. Learn more at www.jltmobile.com.
Attachment