Start increasing your productivity today 
So you can get tough jobs done
We know that hardware isn't your focus. You just want to get the job done. But like it or not, you're highly dependent on the ecosystem surrounding your fleet of forklifts; everything from building layout to IT infrastructure, from user acceptance to environmental factors can play a part. At JLT, we understand all that. And that's why we want to help you get the most from the devices in your operation, and ultimately optimize your workforces' productivity. So that you can focus on hitting those targets and reduce your operation's downtime!
This is about more than just rugged computers and our newest JLT6012™ Series. This is about finding the right solution for you. We promise reliable performance, less hassle, no matter what the final solution may turn out to be.
Want to try it for yourself?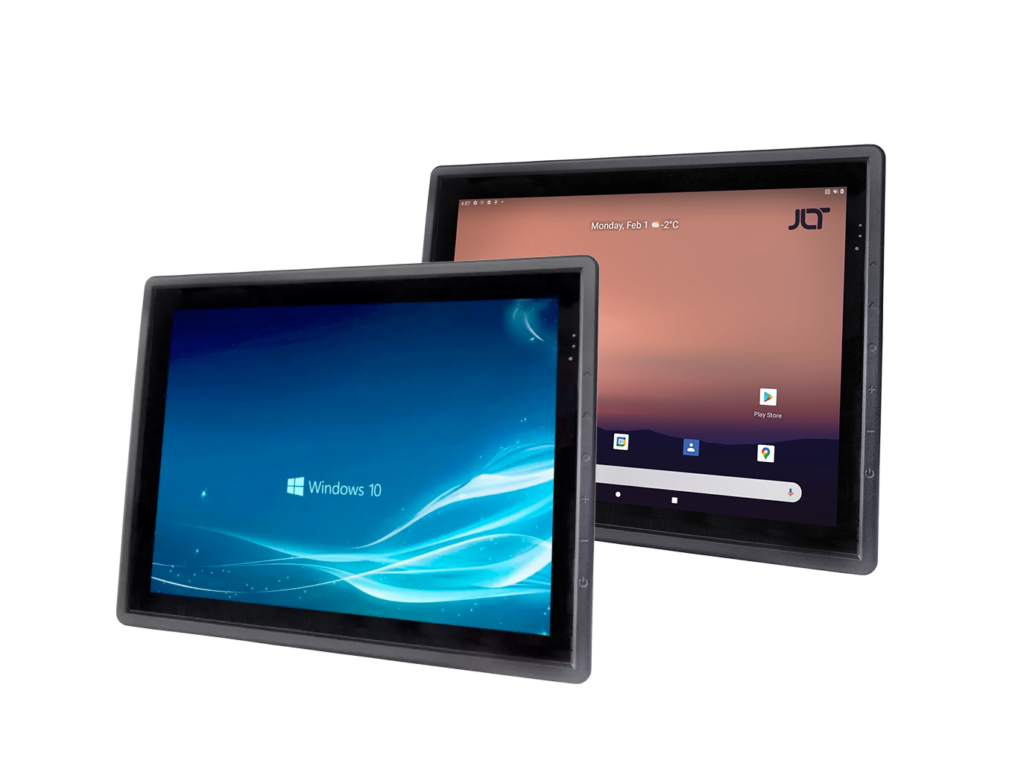 Adaptable
Install the JLT6012 Series in almost any vehicle without the hassle of external adapters.
Customizable
Easily organize your data by inputting with two on-screen or external keyboard options.
Unbreakable
The JLT PowerTouch™ display is built to last. Withstand anything from heat to hammers and the harshest drops.
Customer quotes and Expert reviews
Swire Coca-Cola, USA
"We have used forklift computers from JLT since 2011 and the results and customer service have exceeded expectations." – James Sloan, Chief Financial Officer at Swire Coca-Cola, USA
JLT6012 customer
"Our relationship with JLT started in 2003 and their products have been up and running with an almost non-existent failure rate ever since then. The latest addition JLT6012 computers fit right in; they're built to last and fully recyclable." - Klas Lundåsen, IT Technician, at SSAB Common IT Service.
Solar Denmark A/S
"JLT computers are reliable, with great network connectivity and they don't need constant rebooting. They never break down. I've never sent one in for repair in the four years we've had them." – Leif Prüsse Lauridsen, Technician Maintenance at Solar Denmark A/S
JLT6012A expert review
"Impressive though those ruggedness specs are, they can't convey just how solid and trust-inspiring the JLT6012A feels, and how meticulously engineered and built the panel is inside. This is craftsmanship of the highest grade." - PC Rugged Review
JLT6012A expert review
"JLT Mobile's JLT6012A merges the quality and toughness of an ultra-rugged vehicle-mount with the flexibility and ease of use of a modern Android smartphone." - PC Rugged Review
JLT6012A expert review
"As far as performance and responsiveness goes, the switch from the original processor in the dual-OS version of the JLT6012 to the Qualcomm SnapDragon SD660 in the dedicated JLT6012A Android version is a big step forward." - PC Rugged Review
Still on the fence?
Try it for FREE!
So you want to incorporate reliable rugged technology into your warehouse operations but you're still unsure about how it will fit into your specific work environment? 
No problem.
We'll let you test drive the JLT6012 Series—on us. Contact us today to get your product demo for a first-hand try.